Books We Are Loving – October 2020
This blog post does not contain affiliate links because we think you should borrow books from your library if you can, or get them second hand or from where ever you personally want to buy books. Not just amazon because it might make us some money. You can read more about our affiliate policy here.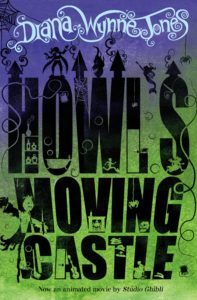 I've read Howl's Moving Castle by Diana Wynne Jones, as a readaloud twice now, and I'm not sure I fully understand how everything fits together, but we always have a really good time. It's the story of a young woman called Sophie who is turned into an old woman by a witch, and so takes herself off to have adventures and hopefully break the curse. Against her better judgement she makes herself housekeeper to the mysterious Wizard Howl, and his fire demon Calsifer. Adventures ensue.
There is a Studio Ghibli film of the same name, which is currently on Netflix, and though most people suggest reading the book and then watching the film, the film is so different to the book that I would suggest you watch it first. (I found it underwhelming when compared to the book, but a great film when left to stand on it's own. Ymmv.) There are also two sequels set in the same universe, but it's best to go into them knowing that Sophie and Howl are supporting characters in both those books, in case you were hoping for direct continuations of their adventures. Both sequels are good nonetheless – and it's fun to have the characters join the story eventually and see how their lives have changed – but a bit disappointing if you were hoping for Howl's Moving Castle part 2 and 3. Forewarned is forearmed and all that.
Sarah, Plain and Tall by Patricia MacLachlan is a short book full of atmosphere, set in the Midwestern United States in the late 19th Century. A farmer, Jacob has been widowed and finds it hard to cope with his farm and two children. He advertised for a mail order bride, and Sarah, who lives in Maine replies to his advert. Told mostly through the eyes of the two children, the book takes place during the time she visits the family to get a feel for a life that is very different from the one she has know. It's a beautiful book about loneliness, change and hope.
The only downside is that it's actually the first book in a series five, but I've found it hard to find the other books. Annoyingly only four of the five books are available on audible. This first book is much easier to find, because it won a load of awards when it was first published in 1986, including the Newbery Medal, and by the end of the book you care about the characters and want to see where their lives go next, so it's frustrating that doing that is kind of complicated.
Check Please! by Ngozi Ukazu is a love song to ice hockey and slow burn romance. It is available in it's original form as a web comic, or in two paperback graphic novel collections. It follows the four years of college life for Erik 'Bitty' Bittle, vlogger, baker, former iceskater, and new member of Samwell University Ice Hockey team. Ngozi Ukazu's comics are chock-full of tiny details that add a wonderful depth to her story telling. You root for her cast of characters, and it's wonderful to watch the relationship between Bitty and Jack allow both character to really grow into themselves. I can't wait to see what Ukazu does next!
A UK based web comic/graphic novel that deals with first love, the complications of being a teenage, and mental health? Heartstopper by Alice Oseman has got you covered. Another great webcomic that is also out as graphic novels, this series also ties into a novel, and novella series written by the same author. These focus on other friends in their friends group (as well as giving you a glimpse of Nick and Charlie further on in their relationship.) It's great to have a series like this based in the UK, given the large amount of fantastic but US based graphic novels for middle grade and young adult.
What have you been reading lately?
---
---