Interesting stuff – the March 2020 roundup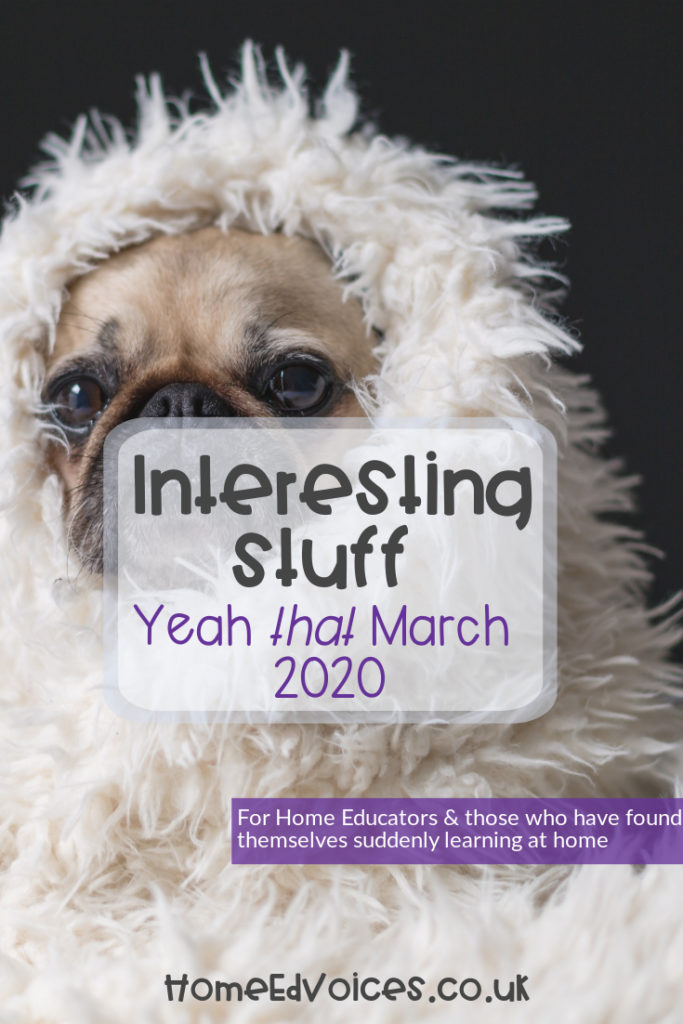 Katherine Wilson, a mother of two in Rome, says she wishes Italians had listened to warnings about the coronavirus before the situation turned dire. In this article, Wilson shares what she wishes she had done differently before things got bad. (There's encouraging news in here too)
In case you missed it, Daksina's created this amazing Coronavirus unit study to arm yourselves with knowledge in these uncertain times.
And on that note…
free resources
..available to families who are doing their difficult but responsible bit to maintain social distance.
The Arts
Enjoy world-class theatre from the comfort of home with National Theatre at Home.
IntoFilm have made their member resources free for all.
McHarper Manor are conducting free art lessons each weekday via FB. Check out their website for the materials list for the week.
Science
MEL Academy from MEL Science offers online classes with hands-on experiments and VR lessons currently free to all.
200+ free science lessons from Mystery Science.
Nature Study
Support nature at home with this list of activities from the Wildlife Trust
Free PDF – How to Teach Nature Journaling
Audio books
Elevenses with The World of David Walliams – Every day at 11am, you can listen to one of David Walliams' World's Worst Children stories, so sit down, take a break, and enjoy 20ish minutes of pure fun!
Get Epic! free for one month. Epic! is a digital library of 35,000 books, videos and quizzes for children 12 and under.
Music
With everything happening in the world, music has the power to connect us. Fender want to do their part to see you through by offering 3 months of free online guitar, bass and ukulele lessons to the first 100,000 who sign up for Fender Play.
Languages
Rosetta Stone for Students is free for the next three months.
Miscellaneous
Twinkle resources are free for one month with the codes CVDTWINKLHELPS or UKTWINKLHELPS
Free Virtual Tours of World Museums, Educational Sites & Galleries For Children. Explore the world at your fingertips with a comprehensive list of virtual tours you can take with your children, adventure all over the world from the confines of your own home.
---
---