Home Ed Voices 2020 Blog Post Archive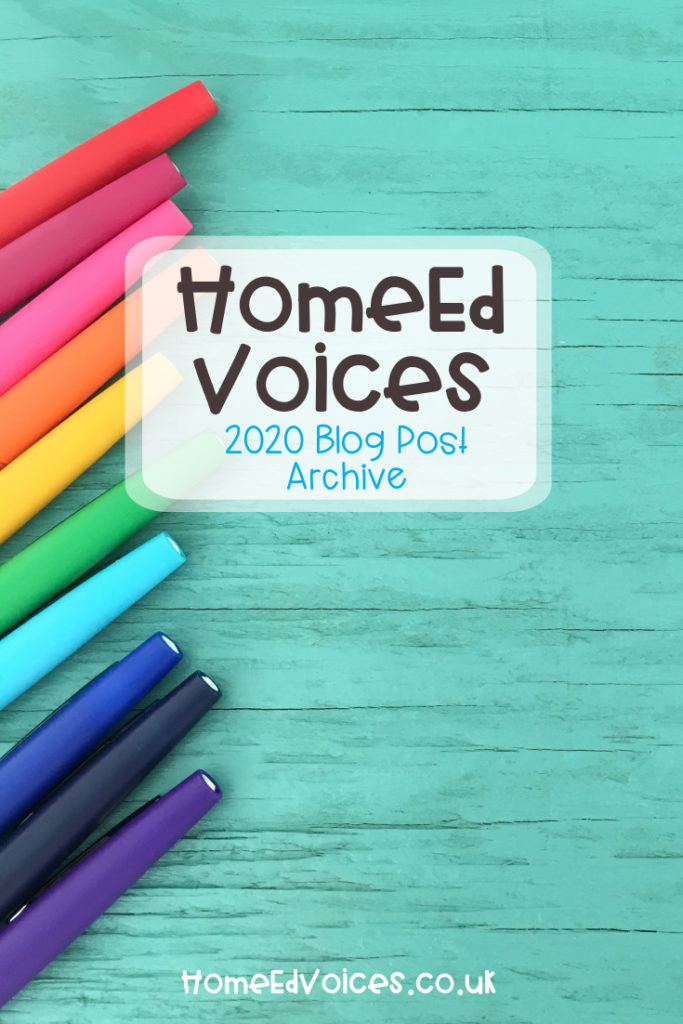 Well it's been 'a year' and it's nearly done. With that in mind here is the Home Ed Voices 2020 blog post archive. A collection of everything we have written for the blog this year.
January 2020
Home Ed Voices Podcast – Season 3 Episode 25 Repeat of Episode 7 – Kate McConaghy
This week I'm talking to Kate McConaghy who now writes regularly for HomeEdVoices.co.uk. We talk about videogames and how they can be a gateway to literacy. How it all counts, not just the stuff that looks the most like school, and how you can structure your yearly plan to protect your mental health.
How I Use My Planner for Homeschool Planning by Daksina Basia
Grab a warm drink or maybe your lunch and take half an hour with Daksina's video, as she walks you through how she uses her planner for home ed planning.
How to Home Educate When You are Full of Lurgy by Katie Hanrott
For most families home education doesn't stop when you get sick unless everyone is unwell, which means that there will be times when your kids are healthy and you feel rubbish and still have to get through the day.
Books for Big Conversations by Kate McConaghy
All books have the potential for great discussion, or as Julie Bogart calls it, big juicy conversation. This month I've reviewed our recent reads that led to the juiciest conversations. We didn't necessarily love them all, but we're grateful for the opportunity they provided us to talk about some heavy but necessary truths.
Modelling self-directed study by Kate McConaghy
Your interests matter. Make time for them. Model self-study and the cycle of learning for your children if you wish to see them take more ownership of their own learning.
Home Ed Voices Podcast – Season 3 Episode 26 – Replay of Episode 3 Daksina (@daksinabasia)
This week I'm talking to Daksina who now writes regularly for HomeEdVoices.co.uk. We talk about getting our heads around the idea that every education has gaps, and that is ok. We fangirl over the calming influence of Julie Bogart, and we talk all things gameschooling.
Interesting Stuff – The January 2020 Roundup
Books for home edders, what happens after home education? Anti-authoritarian readalouds and documentaries about penguins.
February 2020
Book Review – Astrid the Unstoppable, and Heidi by Katie Hanrott
Both Heidi and Astrid the Unstoppable are thoroughly enjoyable books, who's stories and themes intertwine in really interesting ways. They are the prefect pair read during the last of the winter and while awaiting the coming of spring.
Don't Over Plan the Fun Stuff, (and what to do instead.) by Katie Hanrott
Over planning things that sound good but you won't actually do, is a waste of time and makes you feel bad. (Ask me how I know this…) Here's what I suggest you do instead.
Home Ed Voices Podcast – Season 3 Episode 27 pt1 – Day in the Life – Kate (HomeEdVoices.co.uk)
This week on the podcast, we are trying something different and doing a deep dive into what is going on for a home ed family right now, with a Day in the Life interview.
Home Ed Voices Podcast – Season 3 Episode 27 pt2 – Day in the Life – Kate (HomeEdVoices.co.uk)
Part 2 of the Day in the life podcast episode.
Books We Are Loving – February 2020
Books we are loving, February 2020.
Jane Austen's Persuasion, The Boy, the Mole, the Fox and the Horse, Air is Not Oxygen, A Little, Aloud for Children, and You're Strong with Me.
Celebrate Pancake Day 2020 by Kate McConaghy
If you're looking for a fun way to celebrate Pancake Day 2020 with your children, we've got you covered with a poem, some maths, kitchen chemistry and more!
Curriculum Review: Maths – No Problem! by Katie Hanrott
I have been using this UK based Primary maths curriculum since 2015. Here I share the advantages and disadvantages of it.
Interesting Stuff – The February 2020 Roundup
Interesting stuff from February: getting out into nature with grumbling small people, teenage life in Ancient Rome, why you family won't (or can't) maintain your organizing systems, and kid and anxiety friendly corona virus info.
March 2020
British Nature Study Resources by Katie Hanrott
As we shift from winter and into spring, here are some great resources to help you learn more about nature in the Britain.
Happy International Women's Day 2020 by Kate McConaghy
I never gave much thought to things like International Women's Day when I was a young woman 'doing it all'…then we had a little girl. It's International Women's Day this Sunday, March 8, 2020. Celebrate Women's History with these great resources.
Books we are loving – March 2020 by Kate McConaghy
Books we are loving March 2020
The Girl who Stole an Elephant, Look Up, and The First Rule of Punk
Using 'Good Ideas' by Michael Rosen as a Curriculum by Katie Hanrott
Do you want an easy to find, British book that will inspire your home education and give you tons of ideas of things to explore alongside your children?
Good Ideas by Michael Rosen might just be the book for you.
Coronavirus unit study by Daksina Basia
Whether you're an established home educator, or directly affected by the pandemic school closures, this unit study on corona virus will give your family a wealth of cross-curriculum ideas to learn about what is turned our world upside down right now.
Happy Mothering Sunday you amazing HE mums! by Kate McConaghy
We think home ed mums are amazing for all that they do. This Mothering Sunday we're making it easy to treat yourself to something beautiful and useful.
Avoid COVID-19 Burnout by Kate McConaghy
The amount of stress I feel at this moment can only be compared to a few of my previous life events. My family is the definition of burnout. Here's how we avoid boiling over and burning out during this pandemic – how we improve our coping mechanisms to thrive in this new situation.
Interesting stuff – the March 2020 roundup by Kate McConaghy
What we can expect ahead of us from an Italian mum who's looking back, arming ourselves with knowledge and looking after ourselves with freebies!
Home Ed Voices Podcast – (Season 3) Episode 28 Lorna (@2devonpixies_home_ed)
This is episode 28 and this week I'm talking to Lorna from @2devonpixies_home_ed. We talked on the 17th March, as lockdown for the coronavirus was just starting, but before the school's had closed, so that colours the whole conversation. However we also talk about tuff trays, the pedagogy of 'give it a go' and Lorna brings a fantastic book list that will keep you going through these strange days.
April 2020
Hey home edder, What do you need from Home Ed Voices right now? by Katie Hanrott
Lovely people we need your help! The pandemic has thrown a lot of things into the air, and we really want to continue writing and recording things that are useful to you.
Books we are loving – April 2020 by Kate McConaghy
Katie didn't read any good books this month, but Kate read a great pair of mysteries to keep you busy!
Shakespeare Day 2020 – a study guide by Kate McConaghy
April 23rd is Shakespeare Day. Take the opportunity to pepper your week with the Bard – quotes, books, plays, movies and more ideas in this post.
One Small Thing – Daily Anchors to Hang Your Week On by Katie Hanrott
If the thought of a full routine makes you want to hide under the duvet, then maybe just hang something small on to each day, so you and your children know where you are in the week. And why parenting through this pandemic looks like nothing from the outside, but is anything but.
Coping with a Wide Age Range During Lockdown by Katie Finlayson
Katie Finlayson (from Learn What You Live) with a guest post about how to cope with a wide age range during the lockdown.
Interesting stuff – the April 2020 roundup
70's computer predictions, the effect of the pandemic on children and parents, pom poms, supporting kids on video calls, hobby books, the paradox of counteracting trolling, and why you shouldn't worry about getting behind.
May 2020
Art-ing on a shoestring by Kate McConaghy
If you're running out of ways to keep the children happily occupied, we've created a list to help you re-stock your art box for about £5 or less!
One Small Thing – Compassion for People Who Say Thoughtless Things to Home Edders During Small Talk by Katie Hanrott
The dreaded 'I guess things aren't that different for you' comments have been getting me down. Time to think about them another way.
(free) Books of the month from Audible Stories by Katie Hanrott
As you probably know, during the pandemic Amazon has made a number of their audiobooks for kids available to stream for free as Audible Stories.
My 11 year old, who is an avid reader and audio book fan, tells you about the books he's been enjoying…
From a Home Ed Dad – 3 Conversations You Might Have During the Pandemic by Will
As a home educator, there are 3 conversations to look out for during the Coronavirus pandemic…
One Small Thing – Create Your Family Dictionary by Katie Hanrott
Today's One Small Thing – record your family's words.
Learning British History with British Resources by Kate McConaghy
Learn a year's worth of British history together with just one book (of course, we've suggested other great British resources you could include too)!
One small thing: Gaming for stress relief by Kate McConaghy
We are still solving problems and overcoming obstacles and struggling through and sometimes it doesn't feel like we're ever going to win…so pick up a video game and give yourself a quick win.
June 2020
Anti-Racist Resources for the Home Ed Family – the Anti-Black Racism Edition by Katie Hanrott
Here is a list of resources, organizations to follow, books and articles to read. #BlackLivesMatter
Windrush Day 2020 Resources for Home Educators by Katie Hanrott
Windrush Day is on 22nd June and celebrates the arrival of HMT Windrush, which brought people from Jamaica, who had been encouraged by the British government to live and work the UK after the end of the second world war.
Here are some resources you can use to learn about the lives and legacy of the people who moved here.
One Small Thing: Give Meaning to Those Piles of Paper Your Kids Generate by Katie Hanrott
I can't help you keep your house tidy, but I show you what I do to make those piles of kids drawings have real meaning, for when I finally tidy them up.
Books We Are Loving – June 2020 by Kate McConaghy
Cloud Horse Chronicles Books 1, Maker Comics: Draw a Comic! and Collins Primary Geography.
Flashbacks Series- accessible historical fiction for children by Kate McConaghy
The Flashbacks Series – fun educational historical fiction for less than a fiver a book and only a week's investment. For history lovers and loathers alike!
Books with Trans Characters to Add to Your Family Bookshelf by Jean Parnell
There are fantastic books with Trans characters in them, that can help Trans children feel seen, and help teach others about Trans people and their needs, their lives and their dreams. Here is a great selection of them from our friend Jean.
Podcasts for children and adults to spark interesting conversations, process art galore, neolithic findings, ancient orkney dogs, a short hike for those in need of a gentle escape, and a fantastic piece about embracing diversity within our home education curriculum.
July 2020
One Small Thing – Talk to Your Friends by Katie Hanrott
Some how I could hold these parallel beliefs in my heart – the pandemic is not going anywhere soon. It's not going to be over tomorrow. It might not be over for a year. And I will just catch up with my friends when it's over and that is easier to do. They both felt true.
And it made me so miserable.
While We're on Our Summer Break – Good Things from the Archives by Katie Hanrott
The Home Ed Voices team are on their summer break, but will be back on 4th August 2020!
In the meantime here is a selection of useful and good things from our archives you might find useful.
August 2020
Home Ed Voices Podcast – (Season 3) Episode 29 Eloise Rickman (@mightymother_)
We talk about her new book Extraordinary Parenting, about writing it during lockdown and about how it is a unique source of comfort and support for parents and home educators during this pandemic.
GIVEAWAY! For an chance to win a copy of the book, go to our instagram @homeedvoicespodcast.
Starting to Home Educate in 2020: The Legalities of Home Educating in the UK by Katie Hanrott
How do you get starting with home educating? How do you go from having a child in school to home educating? How do you interact with local authorities?
We've got your back.
Starting to home educate in 2020: How to home educate for free (and why you should) by Kate McConaghy
Take advantage of all the freebies. Know what you NEED before wading into the vast pool of curricula options. HEV freebie printable included!
Starting to home educate 2020: Uneven road ahead by Kate McConaghy
The sailing is never smooth in raising and educating children. Expect uneven road ahead. Know that growth is a (painful) beautiful process.
Starting to home educate 2020: Best books for home educators by Kate McConaghy
If you're just starting out on the home ed journey and wondering which of the many books to read first, here are our rec's for the best books for new home edders.
Starting to home educate 2020: Planning for the year ahead by Kate McConaghy
There is only one universal rule when planning. Finding a system that motivates you to action is the tricky bit, but we've got your back.
Starting to home educate 2020: All-time Favourite Read-Alouds by Kate McConaghy
You want your mind to be free to enjoy and observe in these early days. Curricula can wait. Here are our all-time favourite read-alouds.
Fantastic UK morning time resources, ideas for elective studies, conversations with graphic novelists and artists, exploring the world of the Wild Robot, and remembering to breathe.
September 2020
Hey Home Educating Parent – Protecting Yourself from Burnout in 2020 by Katie Hanrott
I think that as home educators we need to assume that we are going to feel burnout at some point this year, and we need to think about how we're going to protect ourselves as much as possible.
Children in the time of Covid19: Pandemic PTSD in children by Kate McConaghy
To socialise or not to socialise, that is the question. The answer? It depends on the child's needs. Let's be kind to each other as we heal.
Reminder – Home Ed Kids and the Flu Vaccine (and why it's more important than ever in 2020) by Katie Hanrott
Reminder – If you want to have your children vaccinated against the likeliest strains of flu this winter, ring up your GP and book an appointment to get them vaccinated. There are a number of extra pandemic-related reasons why getting a flu vaccine is a really good idea in 2020.
(This is not an invitation to debate.)
Breathing out when 'everyone else' is breathing in by Kate McConaghy
It's Public Service Announcement season here at Home Ed Voices! Here is your annual autumn reminder to look after your mental health!
Guestpost – How to Plan a Unit Study by Daksina Basia
Friend of the blog, Daksina shows you how she makes unit studies for her family.
Books We Are Loving September 2020
Polish detective novels, a fantastic Windrush story, a Book of Feelings and a graphic novel series that I really love.
Interesting Stuff September 2020
A fantastic autumnal course from a friend of the podcast, a new homeschool book to sample and pre-order, a pat on the back, and sensible plan for how to prepare for this winter.
Science at Home: IF Oxford 2020 by Kate McConaghy
Running throughout October, IF Oxford is online this year, which means that you don't even have to be local to take part!
October 2020
Maybe Plan for Halloween Now? by Katie Hanrott
For those of us who do Halloween, this years festival is probably going to be really weird.
So as parents we probably need to put our heads together and make a plan about what we're going to do now.
We have some ideas!
Nature Study – Not just for science anymore by Kate McConaghy
Nature Study can be a great motivator to go outside even as the weather turns cold and wet. Need extra motivation? We have an app for that.
Books We Are Loving – October 2020
Web comics turned to graphic novels, (which makes trying them super easy!) classic award winning American fiction, and the exciting adventures of Sophie Hatter!
Black History Month 2020 – Resources for Home Ed Families by Katie Hanrott
Black History Month runs throughout October and is a great opportunity both to celebrate Black lives right now, and to find resources and information that you can use all year round.
An Airplane Unit Study for Home Educators by Kate McConaghy
If you find yourself in need of a week of rest, we've got your back. Here is an Airplane Unit Study all laid out and ready to go for you!
Info About Buying Books this Winter & the Education Committee Call for Evidence regarding Elective Home Education by Katie Hanrott
Two useful bits of info for home ed parents – getting the books you want this winter, and a call for evidence regarding elective home education from the Government education committee.
Interesting Stuff – October 2020
UK home education online event, Halloween novels, contributors for a bundle wanted, and 'the 6 month mark is always difficult.'
November 2020
Chapter Books for Transitional Readers (and/or Early Readalouds) by Katie Hanrott
Transitional readers have grown out of early reader books, but aren't ready for large novels. Here are some example of great books that suit that in-between stage.
Review – Coming Home: A Quick & Practical Guide for Preparing a Mother's Heart, Mind, & Home for Homeschooling by Camille Kirksey (@theIntuitiveHomeschooler) by Katie Hanrott
Whether you are a new home educator in need of support, or an established home educator who could do with a pick me up, (especially during the pandemic), Camille Kirksey has got you covered.
(Not an ad, but *spoilers* I really liked this book!)
Big Holiday Gift Guide 2020 by Katie Hanrott
Welcome to the Big Holiday Gift Guide 2020 where we are supporting small British businesses, especially ones run by home educating families!
Books we are loving November 2020
History, historical fiction, a heartwarming tale and….horror? Okay, not quite. It's Books We're Loving November 2020!
Practice another language with Netflix by Kate McConaghy
Trying to incorporate an additional language in your daily routine is tricky. The best advice I found is to watch TV in another language – it's easy with Netflix!
60 Second Histories – a review by Kate McConaghy
60 Second Histories from Squaducation. What I liked about it and what may or may not work for your children.
Home Educating at the End of the Year – What's in Rotation?
In the last few weeks of 2020 (seriously – Bye 2020!) this is what we're using in our home education.
Interesting Stuff – November 2020
An ebook bundle you don't want to miss, a great deal on a fantastic book, how to make these winter holidays feel special, and a metaphor.
December 2020
Christmas Books to Reserve at the Library or Add to Your Collection by Katie Hanrott
Christmas books are a lovely part of the season for many families. These are some of our personal favourites.
Online Pantos for You to Enjoy! by Katie Hanrott
Despite many Pantos across the country being cancelled during the pandemic, there are still some to be found, both in person, and online!
(And the online ones are £15-25 per family, so much more affordable that traditional theatre pantos!)
Here we go again: A brief lesson on the compulsory EHE Register in England by Kate McConaghy
If you're new to Home Ed you may not be aware of the history and bias of the EHE Register in England. Here's our summary and actions you can take.
---
---